Rockhampton is a true gem of Central Queensland. Often mistakenly overlooked on driving holidays as travellers race up and down the state, we're here to tell you it's time to press pause and spend a few days exploring this beautiful city.
In fact, our 3-day itinerary packs so much punch, we wouldn't be surprised if you end up extending your stay so you can experience all the unique, 'must do' experiences that Rockhampton has to offer!
Day One
It's only appropriate that we start our tour of Rockhampton, which is located on Darumbal land, at the Dreamtime Cultural Centre. Make sure to time your visit with one of the guided tours and you'll gain a valuable insight into both the Aboriginal and Torres Strait Islander cultures, before being entertained by the sounds of the didgeridoo being expertly played and trying your hand at boomerang throwing.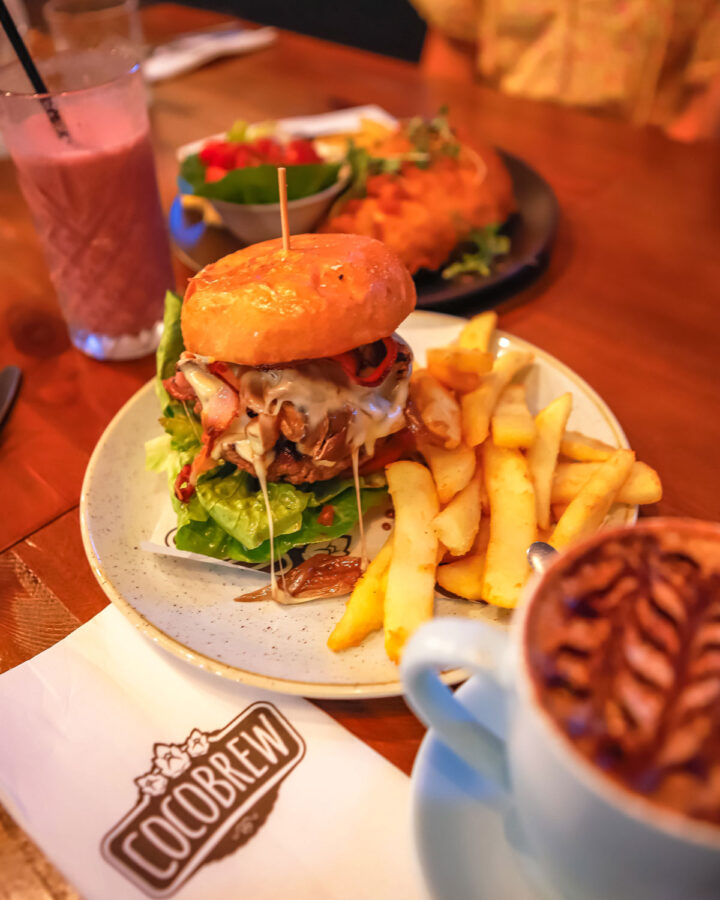 After working up an appetite with all that boomerang throwing, head back into town and enjoy a delicious lunch at the trendy CocoBrew Rockhampton. Given you're in the 'Beef Capital', we'd recommend a delicious steak or beef burger. And if you're a whiskey connoisseur, make sure to check out the cosy whiskey bar (which might be the perfect place to return to at the end of the day).
Having refueled it's time to hit the pavement and explore the nearby historic CBD and Riverside precinct. The best way to see the stunning heritage-listed buildings is by following Explore Rockhampton's self-guided CBD Heritage Walk, before wandering your way back along the riverbank, which is dotted with beautiful modern public artworks. Make sure to take a detour into the impressive Rockhampton Museum of Art. Located on Quay Street, it's the largest gallery in regional Queensland and home to an impressive collection of nationally significant artworks.
Return of your hotel for a well-deserved rest. We'd recommend basing yourself in the heart of the CBD on the mighty Fitzroy River (Tunuba). We've stayed at both Quest Rockhampton and Mecure Rockhampton and enjoyed a great night's sleep at both!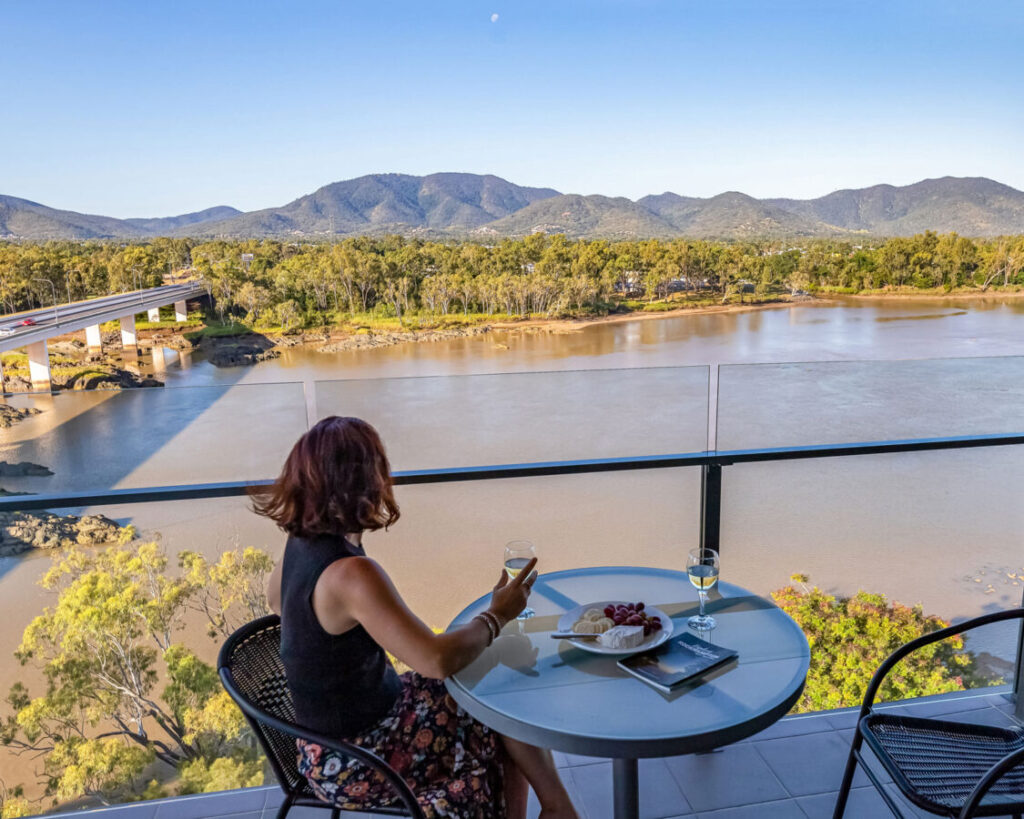 End the day by taking a drive up to the summit of Nurim Mount Archer to take in the impressive views of the city. Pack a picnic to enjoy on the grassy amphitheater, before watching sunset from the impressive 500m-long Nurim Circuit Elevated Boardwalk.
Day Two
Wake up early to enjoy the sunrise from your hotel room at Quest Rockhampton or Mecure Rockhampton. It's beautiful watching the soft, early morning sunshine light up the river and city.
Time to hit the road for your next adventure, but first, make a detour via the drive-through café at CocoBrew Express to grab your morning caffeine fix or a yummy smoothie. Then it's onwards to the Rockhampton Heritage Village to learn about life in the region from the 1850s to the 1950s. Wander around the original and reproduction homesteads, buildings, and businesses, making sure not to miss the vintage fire engines and double decker bus, the blacksmith's shop, or the cute farmyard animals.
Head back into town and grab some lunch. If you're looking for a cute little café near your next stop, check out Kinsfolk. It's only a couple of minutes' drive from the Rockhampton Zoo and Botanic Gardens and serves up delicious healthy meals with a quirky twist.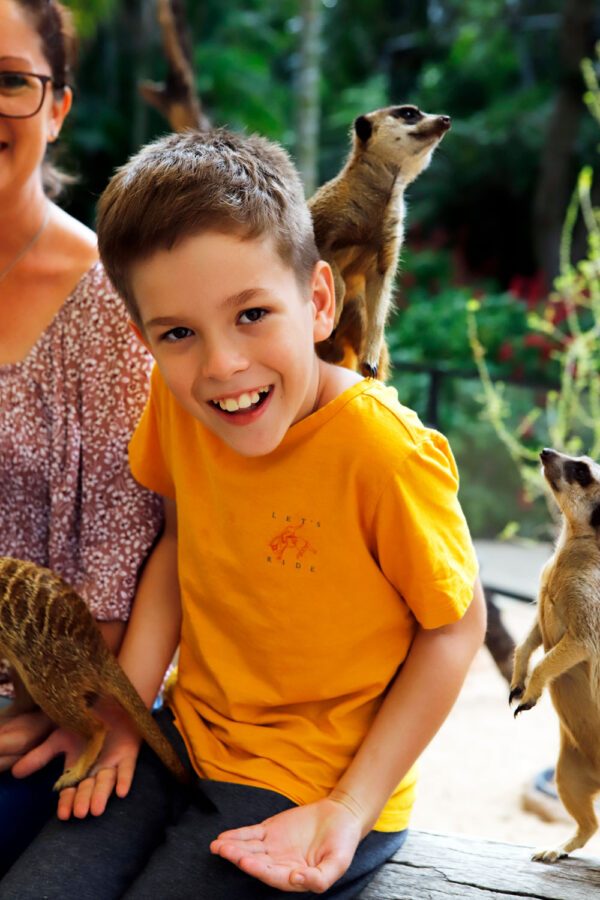 Then it's on to meet your new furry best friends at the free Rockhampton Zoo and Botanic Gardens. Make sure to visit all your Aussie favorite animals, along with the cheeky chimpanzees and mischievous meerkats, before taking a leisurely stroll through the beautiful Botanic Gardens. You could even book in for a personalised meerkat experience, where your taken into the enclosure to hand feed the mob of energetic meerkats.
Having taken some time out in nature, it's onto your next adventure – an authentic farm stay! Make sure to leave plenty of time, as you'll want to arrive at Alkoomi Adventure Farmstay and Campground before 4.30pm, when you can join in feeding the animals and searching for farm fresh eggs. Then it's time to either walk (or arrange a lift with owners Dave and Becc in a traditional chuck wagon) to the top of the hill to watch the sunset over the surrounding fields.
Spend the night camping under the stars or in one of Alkoomi's donga rooms. Make sure to pack a few beverages to enjoy, but if you ask nicely (and pay a small additional fee), Dave and Becc can supply you with a delicious barbecue meat pack to cook up on the camp kitchen. End the night sitting back under the stars and toasting marshmallows around the communal campfire.
Day Three
Spend some time getting back to basics at Alkoomi during the morning. Depending on your interests, arrange a horse or motorbike ride, or take a paddle or dip on the property's picturesque dam.
Then it's time to hit the road in the hope of striking it lucky at the Mount Hay Gemstone Tourist Park, where visitors dig through the remains of an extinct ancient volcano for one-of-a-kind Thundereggs and spherulitic Rhyolite. Take your finds back to the gift shop and watch as the staff expertly cut them open for you, revealing the beautiful colours, crystals and patterns hidden inside.
With your newly found 'riches' in your pockets, drive back into town to tick off yet another iconic Rockhampton experience – Fishing the mighty Fitzroy River (Tunuba). Yes, it's time to jump on board with a local fishing charter company to (hopefully) reel in a trophy Barramundi or King Threadfin! Of course, you could take your chances on your own, but given this is croc country, we'd recommend a fishing charter to give you the best chance of catching that elusive Barra!
More time?
The iconic adventures don't have to stop there, as you could also get gold fever with a day trip to Mount Morgan. Once home to one of the richest gold mines in Australia, Mount Morgan is now a quaint, picturesque town that is rich in history and interesting sights.
Or why not explore the Capricorn Caves? Arguably one of the most impressive cave systems on Australia's east coast, Capricorn Caves offers a range of fun tours through the dry limestone caves to suit all abilities and levels of adventure. There are even spacious cabins available at the onsite camping and caravan park.
And if you're eager to pack in as much adventure as possible, we'd recommend waking up early for the hike up nearby Mount Etna for one of the most spectacular sunrises we've ever seen!
Where to Stay
Consider basing yourself in the CBD for at least part of your stay. We stayed at both the Quest Rockhampton and Mecure Rockhampton during our most recent trip, as they are both perfectly situated in the heart of the CDB and within easy reach of the Riverside Precinct, restaurants, playgrounds and shopping. After spending the day exploring, it was wonderful to relax in comfort in such a central location and watch the twinkling lights of the city.
If you're travelling with a caravan or camper trailer, lock in a campsite at Alkoomi Adventure Farmstay and Campground for an authentic farm stay experience. Even if you're not the camping type, reach out to Alkoomi as they also have some donga style rooms available onsite.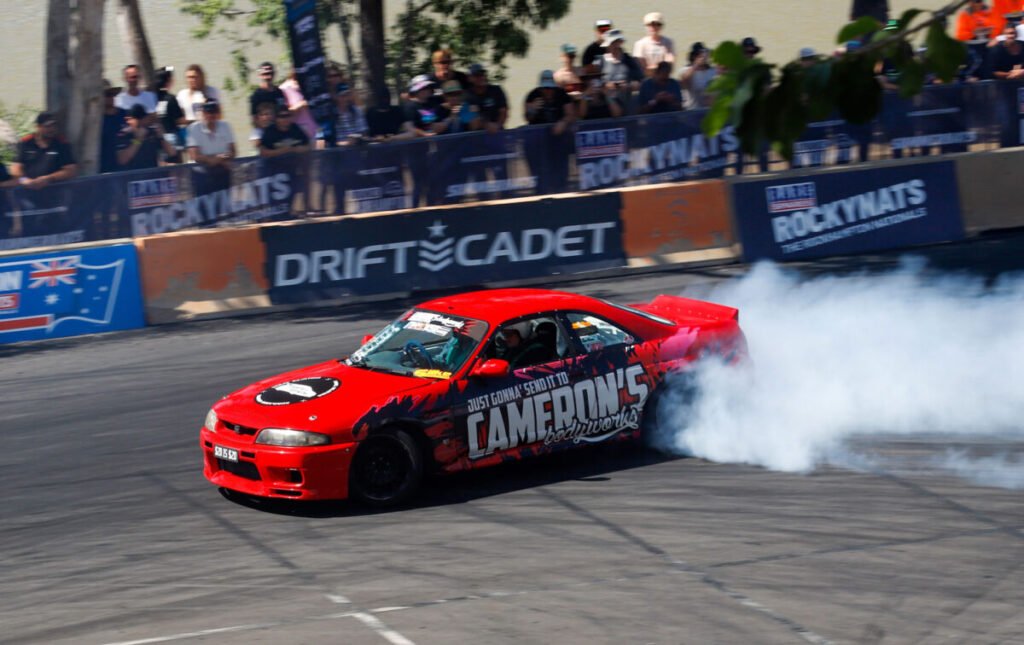 Timed your visit right?
Rockhampton is a hot bed for exciting major events, so make sure to check what's on during your visit. Highlights of the annual calendar include the revved up RockyNats, polished Pop-Up Polo, or delicious Capricorn Food and Wine Festival. The Professional Bull Riding also regularly visits Rockhampton and you can watch all the action while enjoying a refreshing beverage at the iconic Great Western Hotel.
Find out more about events on in Rockhampton on the Explore Rockhampton website.
For more inspiration, visit Explore Rockhampton's website.
(DISCLOSURES: This article was written in paid partnership with Explore Rockhampton. We were kindly hosted during our visit in April 2022. The opinions included in this article are all our own. We only ever recommend places, services and experiences that we personally love.)
*All information correct to the best of our knowledge at the time of publication (May 2022).