Who would of thought that in the middle of Rockhampton would be a free zoo that includes animals ranging from koalas and crocodiles, to chimpanzees and otters.
A fun, diverse zoo that feels spacious without being too overwhelming for little ones, we loved our visit and couldn't get over the fact that it was free to enter.
Not to mention that the neighbouring Rockhampton Botanic Gardens are equally impressive and the perfect place to enjoy a picnic after all your furry and feathered friend fun!
Rockhampton Zoo
Nestled beside the Rockhampton Botanic Gardens and spread over 10 acres, the Rockhampton Zoo has been at its present site since 1925 and now boasts over 60 species on display and entry is completely free.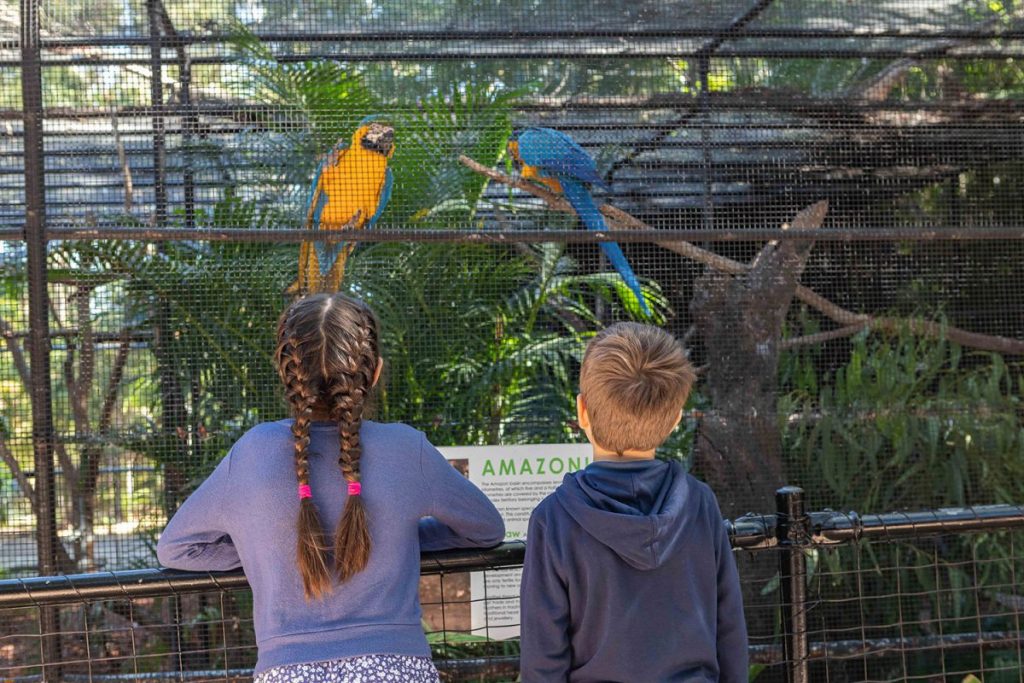 Animals include all the usual Aussie favourites (think emus, kangaroos, wombats, and even cassowaries), alongside more exotic animals like lion tailed macaques, a wedge-tailed eagle and colourful macaws.
It's amazing that a zoo of its size and range of animals is free to enter. We're still a little gobsmacked by it actually!
The crowd favourites are undoubtedly the chimpanzees and it is easy to understand why. We could have spent hours watching their playful antics as they jumped, climbed and swung around their enclosure.
Each of the zoo's seven chimps have their own names and personalities, and we loved that the locals could easily identify each member of the family.
The newest addition is baby Gandali, meaning 'Star' in the Darumbal language, who was born on 3 February 2020.
He is adorable, although we also loved his two-year-old sister Capri who came right up to the viewing glass to interact with us and other visitors. It really was one of those pinch yourself experiences!
However, the chimps may have a battle for the title of most-popular animals soon, as a new meerkat enclosure is due to open later in 2020.
Other highlights include the impressive dome-shaped, walk-through bird aviary, the cassowary viewing platform and The Colonel, who is a giant 4.3m long saltwater crocodile that weighs almost 500kgs!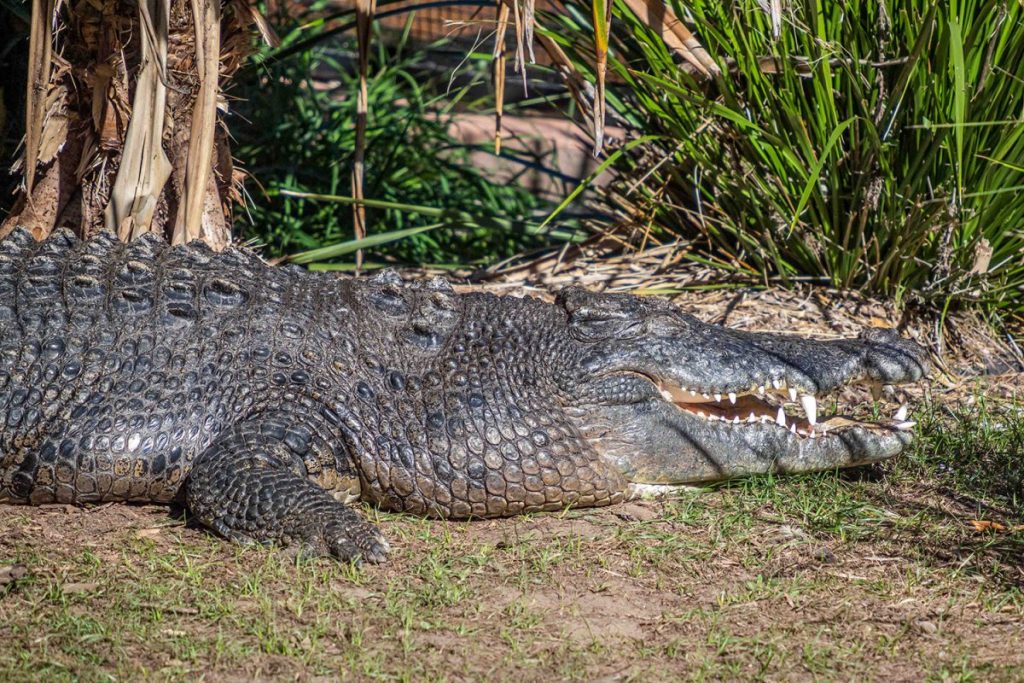 Rockhampton Zoo is open seven days a week and is wheelchair and stroller accessible. We spent a couple of hours wandering around the different enclosures, but you could easily spend a day at the zoo and neighbouring Botanic Gardens.
When planning your trip, look out for details of the regular zoo keeper talks and animal feedings to learn a little more about the animals. And don't forget to get a selfie with the life-size gorilla statue!
Rockhampton Botanic Gardens
Celebrating 150 years in 2020, the Rockhampton Botanic Gardens are the perfect place to relax with a picnic or delicious treat from the Gardens Tearooms after exploring the zoo.
One of the oldest and most established public gardens in Queensland, the Rockhampton Botanic Gardens were heritage listed in 1999.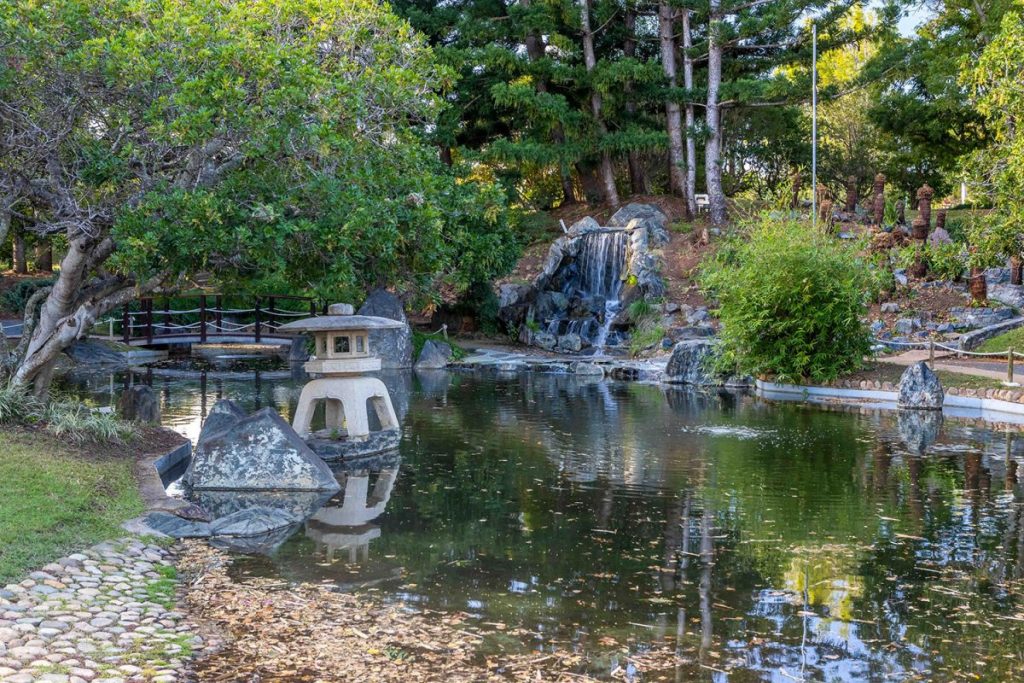 They sprawl over a 33-hectare site and include the Central Queensland War Memorial (The Cenotaph), and tranquil Japanese Gardens that were designed by leading Japanese landscape designer Kenzo Ogata as part of a Treaty of Friendship signed after World War II.
The iconic 150-year-old Banyan Fig Trees which surround the Gardens Tearooms are not to be missed (and the perfect spot for an Instagramable selfie!)
Although our kids were, of course, most impressed with the large playground.
We did manage to tear them away from their fun long enough to visit the expansive Murray Lagoon, where we saw people feeding the resident turtles!
The Rockhampton Botanic Gardens are located at Spencer Street, The Range, and are open from 6am to sunset, seven days a week.
For more inspiration for places to discover around Rockhampton, visit the Explore Rockhampton website.
(DISCLOSURES: This article was written in paid partnership with Explore Rockhampton. The opinions included in this article are all our own. We only ever recommend places, services and experiences that we personally love.)
*All information correct to the best of our knowledge at the time of publication.