If you want to get back to nature and experience a slice of country life, Alkoomi Adventure Farm Stay is the place for you.
During our visit our son and daughter rode horses for the first time, fed the horses and chickens, rode on both a buggy and a chuck wagon, and toasted marshmallows over the campfire.
If that's not living your best life, we don't know what is. Is it any wonder that we never wanted to leave?!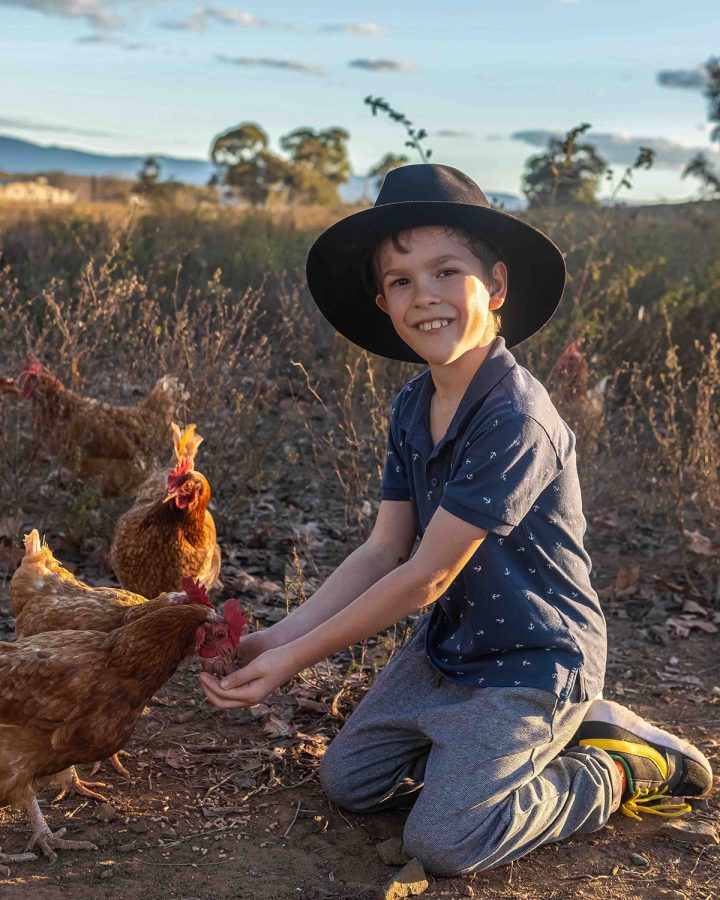 True country hospitality at Alkoomi
Located 45km from the Rockhampton CBD, Alkoomi Adventure Farm Stay is a family-run cattle property where you can stay overnight and experience a traditional country and camping experience without any hassle.
As their catch phrase goes: "Collect moments not things."
Owners Dave and Becc Farrell welcome visitors onto their working farm and serve up a range of experiences that are sure to become memories to last a lifetime.
We visited for the afternoon. But we would recommend staying for a few days to enjoy the complete country experience.
Alkoomi has a few air-conditioned single or double ensuite rooms available. But as they are highly sought-after, make sure to book in advance.
Alternatively, there are non-powered campsites, with a fully-equipped camp kitchen, wood-fired barbecues, and bathrooms with hot showers.
Collect moments not things
The list of activities available at Alkoomi Adventure Farm Stay is almost endless, and range from tranquil bushwalks and bird watching, to adrenaline-packed motorbike or quad bike rides.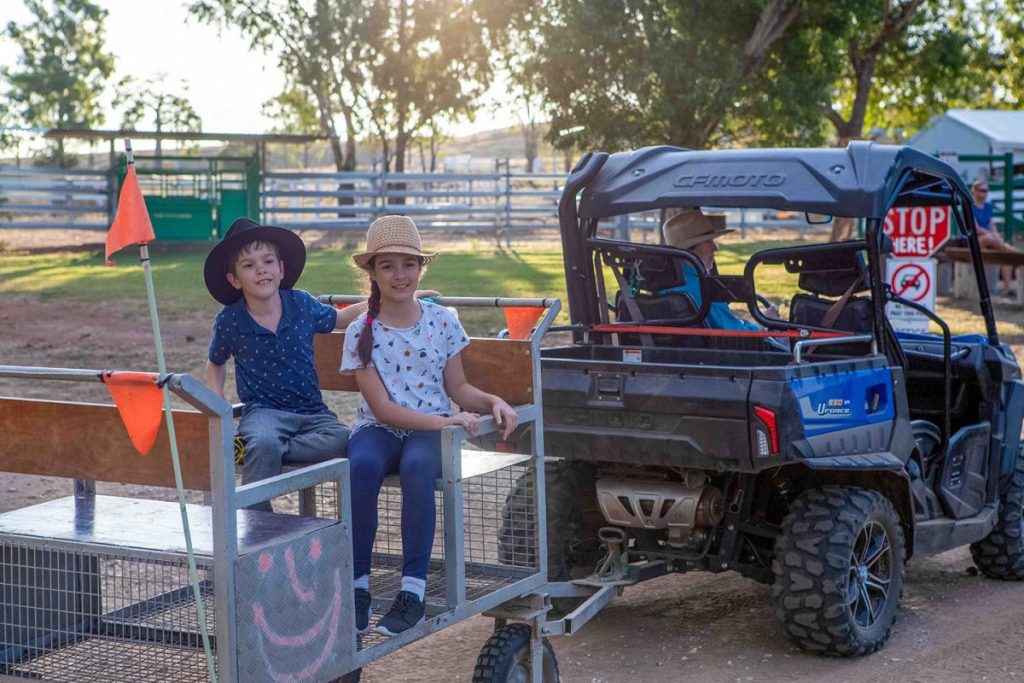 Upon arrival we were greeted by owner Becc Farrell who quickly matched us up with our horses. We were taught how to saddle up, before going on a gentle horse ride around the surrounding paddocks.
We're your typical city folk, and the kids had never ridden before. But owner Becc Farrell expertly directed us around the paddocks, leading the kids' horses as they gained confidence.
Once back at the homestead, and now comfortable on the horses, the kids were given the chance to ride around on their own. It was an experience they're sure not to forget!
Having cooled down the horses, we led them past picturesque windmill and back to their paddock located beside the freshwater dam where visitors are able to go swimming and kayaking.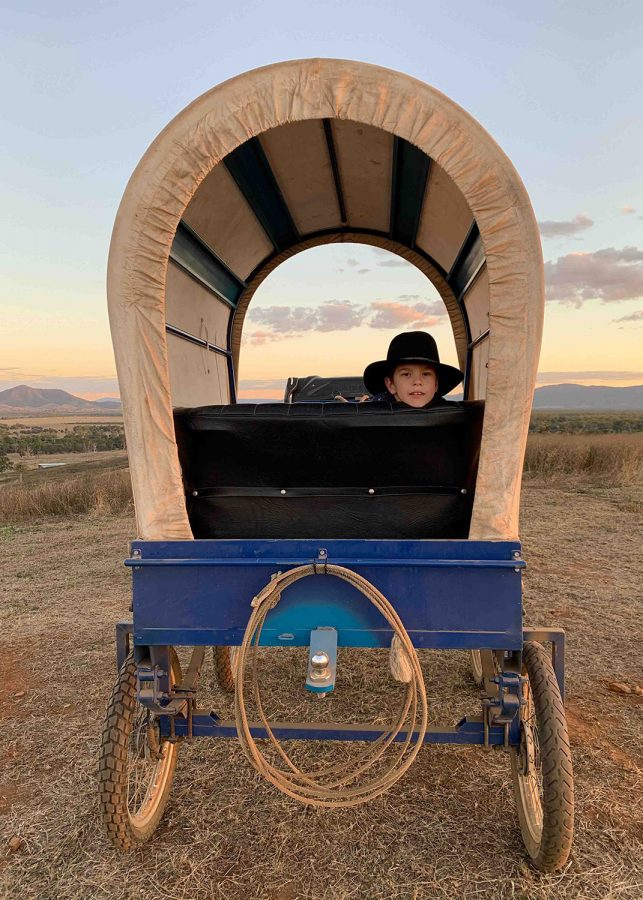 Children staying at Alkoomi are also able to enjoy a fun buggy ride every afternoon, before everyone is invited to join in feeding the horses and chickens and checking for eggs.
Our kids were quick to join in both activities, before we all piled into the chuck wagon for a sunset tour that was straight out of a western movie.
Visitors can walk up the hill to Alkoomi's picturesque 'Sunset Shack', but the chuck wagon ride was such a unique experience and relaxing way of getting around that we'd definitely recommend it.
It was the perfect mini-adventure, before we enjoyed a drink, some cheese and a friendly chat as the sunset over the breathtaking 360-degree views of the surrounding landscape.
And the fun didn't stop there. Having enjoyed the picture-perfect sunset, we returned to the homestead to sit around the campfire, toast marshmallows and marvel at all the stars that had suddenly appeared and had blanketed the night sky.
It was one of those action-packed afternoons that we will be talking about for years to come. Not only did the kids have an absolute ball, but Clinton was in his element as the landscape surrounding Alkoomi is picture perfect and a photographer's paradise.
We have already begun planning when we can return for a longer stay.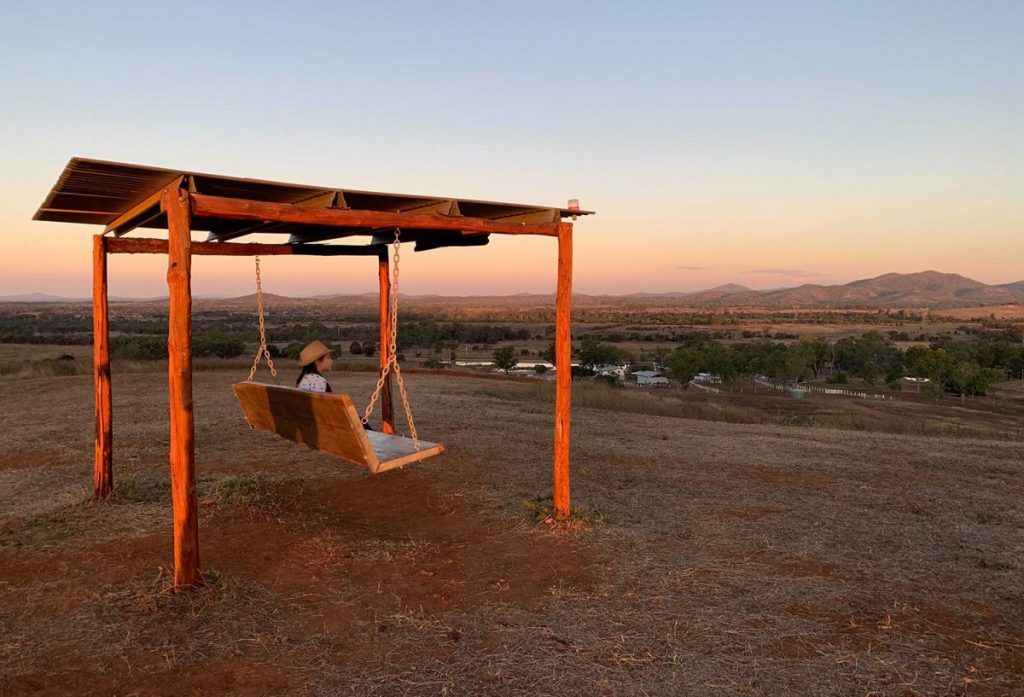 What you need to know
For more inspiration for places to discover around Rockhampton, visit the Explore Rockhampton website.
(DISCLOSURES: This article is written in paid partnership with Explore Rockhampton. We were kindly hosted by Alkoomi Adventure Farm Stay during our visit in July 2020. The opinions included in this article are all our own. We only ever recommend places, services and experiences that we personally love.)
*All information correct at the time of publication. Please contact Alkoomi Adventure Farm Stay for the latest prices and options available.