Watch our adventure at Maleny Botanic Gardens for the Families of Australia program for Family Travel and Virgin Australia's in-fight entertainment.
We recently spent a day filming as we explored Maleny Botanic Gardens and Bird World.
Maleny Bird World is part of the Maleny Botanic Gardens, a private garden set just off Maleny-Stanley River Road, with spectacular views over the Glass House Mountains and out towards the coastline.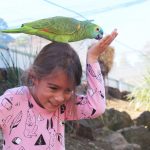 To find out more about Maleny Bird World, read our full article here:
MAKE FEATHERED FRIENDS AT MALENY BIRD WORLD
This exciting experience comes after our family was lucky enough to be selected as the 'Face of the Sunshine Coast' for Virgin Australia and Family Travel/Bound Round's Families of Australia program.
This adventure (along with the videos of our earlier trips around the region) have been played through the Virgin Australia in-flight entertainment system, helping to promote our beautiful region!
To watch our earlier video adventures at Aussie World and the Noosa Everglades, click here:
VIDEO: COME EXPLORE AUSSIE WORLD ON THE SUNSHINE COAST WITH US!