"On the road again, I just can't wait to get on the road again…"
There's a reason why so many iconic songs feature the lure of the open road, and why so many Aussies seem to be embarking on epic road trips as they camp their way around the country. To sum it up – the "road" is freaking awesome!
The open road represents so many things – adventure, freedom, choice, relaxation, escapism, connection, family, fun, memories… I could go on, but I'm pretty sure we all understand that a road trip represents getting back to basics.
And by "basics" I don't mean free camping in the wild (we've tried that and let's just say there's A LOT to be said for the amenities of holiday parks.) Instead, I mean focusing on the things that matter most – family, friends, nature, laughter, human connection, making new friends with your "neighbours" for the night…
So, when Ingenia Holidays approached us with the idea of a family road trip up the New South Wales coastline in a fancy new Ingenia Holidays-branded Hyundai Tucson while staying at some of the very best holiday parks around, we jumped at the chance.
This would be a 'Drive Your Own Adventure' to make lifelong family memories. The brief was simple – have as much family fun as possible while enjoying a four-day road trip between Ingenia Holiday's locations at One Mile Beach, South West Rocks and Byron Bay. Pretty awesome, right?!
---
One Mile Beach
First up on our Drive Your Own Adventure was Ingenia Holidays One Mile Beach – a location we'd never visited before, although we have briefly explored nearby Nelson Bay in the past.
About 35-minutes' drive from Newcastle Airport, or 1 hour from Newcastle town centre and just under 3 hours from Sydney, all we could think was "why haven't we been here before?!"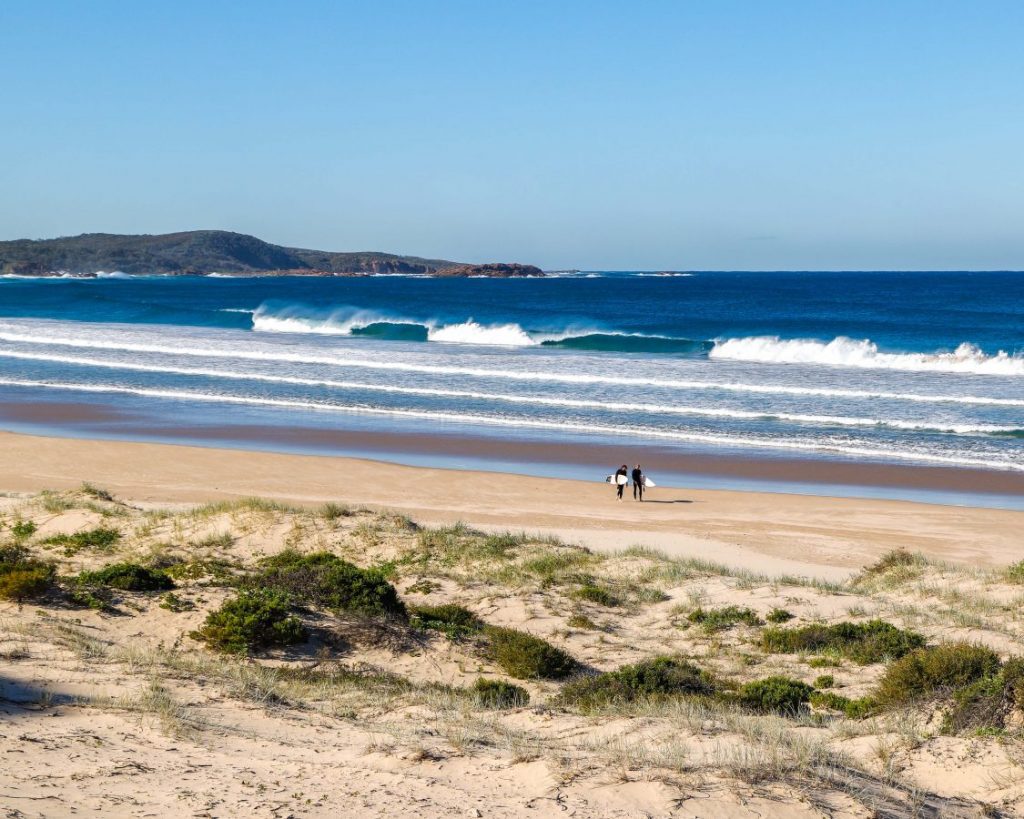 This is arguably one of the best holiday park locations around. All we had to do was stroll over the dunes from our luxury beachfront cabin and we found ourselves on a picturesque stretch of sand that felt a million miles away from anywhere.
The experience honestly evoked that freeing, uplifting feeling of remote, natural escapism that so many of us are chasing – but the reality is that it's actually only a 8-minute drive from Nelson Bay where all the supermarkets, takeaways and posh restaurants you might want are located.
This place is a parent's dream! A huge stretch of sand for the kids to run around, build sandcastles and just be kids, while the holiday park itself has wonderful bright murals, playgrounds, a lagoon-style pool with a waterslide, mini golf, jumping pillow, pet birds that talk, tennis and basketball courts, and pedal carts. Seriously, if the kids claim to be "bored" here there is something amiss!
The lagoon-style pool at Ingenia Holidays
One Mile Beach

One of the playgrounds
at Ingenia Holidays One Mile Beach

Pedal cart fun at Ingenia Holidays One Mile Beach
And if you don't want to cook one night, you don't have to! Just pop into town for a pizza or some freshly caught fish and chips!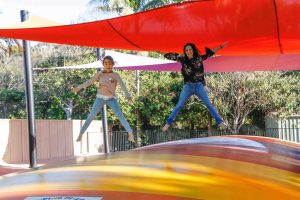 That's not to mention all of the other nearby attractions – the biggest drawcard for us being a sandboarding adventure tour to the Stockton Sand Dunes which has been on our "travel adventure wish list" for a few years now.
We tried cramming all of the on-site activities at Ingenia Holidays One Mile Beach into one epic afternoon of rapid-fire fun, but we'll definitely be back for a more leisurely and longer stay next time. Our premium two-bedroom beachfront cabin had everything you could want for a luxury family escape, including air-con/heating and plush beds, but the size of the campgrounds and open spaces meant it would be just as lovely to camp.
Ingenia Holidays One Mile Beach really is one of those places you fall in love with.
Oh, and sunrise and sunset over the beach was pretty awesome too. You might even spot some local wallabies on the beach. Unfortunately, we missed seeing them but did spot their footprints in the sand!
---
South West Rocks
Next up on our Drive Your Own Adventure, we headed 3.5 hours north to South West Rocks, with a pit-stop at the picturesque Smoky Cape Lighthouse, which was just 10 minutes from our accommodation for the night at Ingenia Holidays South West Rocks. Built in 1891, we'd recommend having a look around the impressive heritage site which boasts stunning views, while you can learn even more about the area's rich history at the nearby historic ruins of Trial Bay Gaol.

Horseshoe Bay at South West Rocks

Pedal cart fun at
Ingenia Holidays South West Rocks


Ingenia Holidays South West Rocks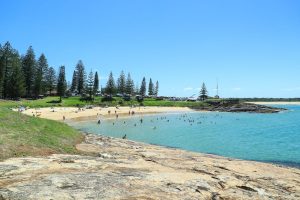 On arrival at Ingenia Holidays South West Rocks we were immediately taken by the laid-back feel of this pet-friendly holiday park. It's location right on the banks of the scenic tidal way of Back Creek means you can easily wander your way into town, passing the iconic Back Creek Bridge as you walk around to the stunning Horseshoe Bay where there is a huge beachfront playground near the Surf Club that includes two flying foxes (a big winner with the kids).
The creekfront location of our luxury cabin also meant we could watch the pelicans swim past from the comfort of our balcony as the kids played on the expansive lawn, and we even watched our neighbours walk only a short few metres from their cabins to throw a line in. Being a keen fisherman, our son thought that was simply the best!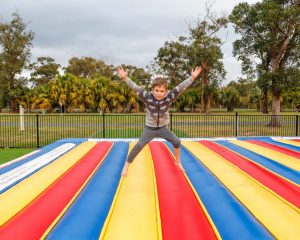 However, you don't need to leave Ingenia Holidays South West Rocks in search of fun, as there is a heated pool with impressive waterslide, pedal carts or varying sizes, and a large inflatable jumping cushion all onsite.
Plus, it was a joy to wake up in the morning snuggled in our comfy beds to the sound of birds singing in the trees. The experience really did set you up for a fantastic day and added to the feeling of escapism of our stay.
---
Byron Bay
The final destination for our Drive Your Own Adventure was Ingenia Holidays Byron Bay. The newest addition to the Ingenia Holiday's group, the park is surrounded by bushland and located on beautiful Tallow Beach, in between Byron Bay and Broken Head.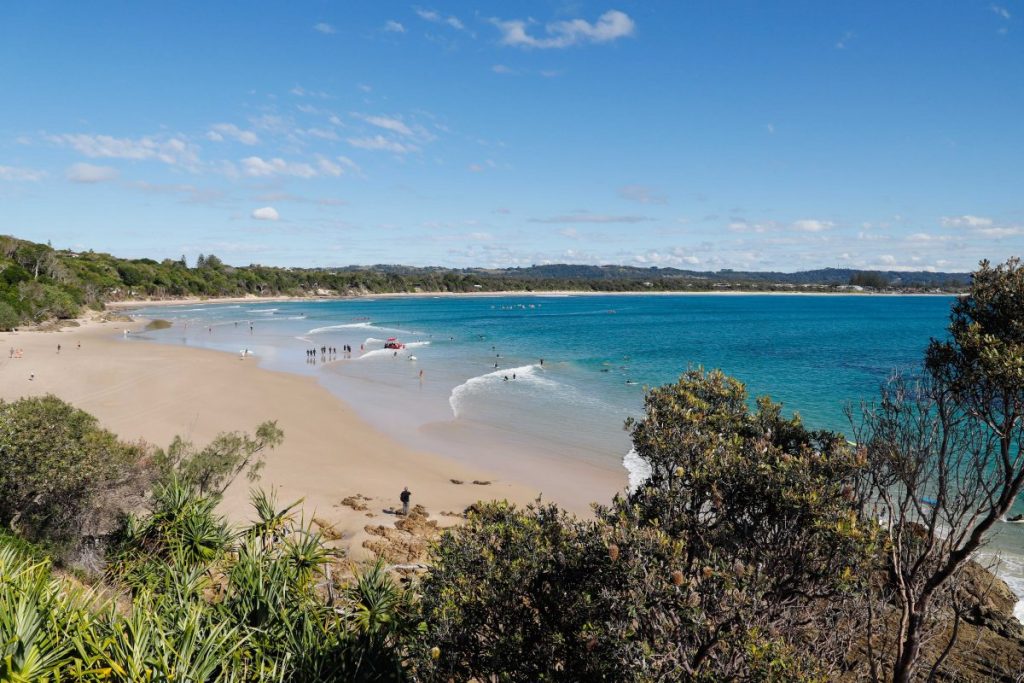 Byron Bay is roughly a 4.5-hour drive north from South West Rocks, but there are numerous beautiful beaches to stop at along the way, not to mention the iconic Big Banana at Coffs Harbour. However, our pick for a quick pit-stop would be Look At Me Now Headland, just north of Coffs Harbour, where you're able to get up close to Eastern Grey Kangaroos as they laze on the headland.
But, in all honesty, you'll probably want to make a beeline for beautiful Byron Bay. All the natural beauty, shopping delights and foodie treats that await hardly need any introduction. But you may prefer to relax and enjoy the sights around the Ingenia Holidays Byron Bay holiday park itself.
Our luxury cabin at
Ingenia Holidays Byron Bay

Cabins at
Ingenia Holidays Byron Bay

Beautiful Tallow Beach

The pool at
Ingenia Holidays Byron Bay
There is a beautiful palm lined pool, basketball and beach volleyball courts, a big playground suitable for a range of ages, and direct access to Tallow Beach. There are also bicycles available for hire onsite, which are a great way to get around and explore the area.
Another highlight would be that we woke up in the morning to discover a friendly local kookaburra warming up in the sunshine on our patio railing. That was a pretty special, pinch-yourself moment.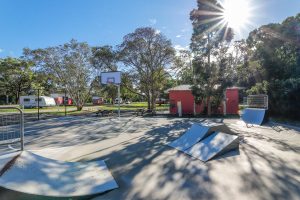 But the standout for any teen or skater child will undoubtedly be the thrill of discovering Ingenia Holidays Byron Bay has its own moveable skate ramps that can be adjusted for maximum thrills. How awesome is that?!
There is also a great little café, Get Trucked, onsite that serves up delicious breakfasts and has a woodfired pizza oven onsite. Personally, we'd recommend the Truckers Breakfast which was delicious, huge, and great value for money.
---

Drive Your Own Adventure – Hyundai Tucson
We enjoyed this epic Drive Your Own Adventure in an awesome Ingenia Holidays-branded Hyundai Tucson.
Purely by chance, our family is in the market for a new family car and after our trip the Tucson has jumped into lead position. It was an enjoyable drive, easy to park and with all the mod-cons and features you would expect. The kids were also happy in their seats for the longer journeys, plus it had the added bonus of cup holders in the back (this is one of the kids' requirements for our new car).
But it was the fuel efficiency that blew us away. It hardly used any fuel at all! We kept thinking we'd need to fill up like we normally would, only to discover the tank was still full. The Tucson was honestly ridiculously fuel efficient and would make budgeting for any future family road trips so much easier.
---
Win your Own Drive Your Own Adventure on the Sunshine Coast with Ingenia Holidays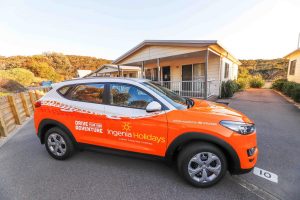 Want to win your own Drive Your Own Adventure on the Sunshine Coast in the same awesome car we took our adventure in?
Well, you're in luck! Ingenia Holidays is giving away an incredible Drive Your Own Adventure worth $3000, including three nights in the luxurious glamping tents at Ingenia Holidays Rivershore.
We've checked them out and they look ahh-mazing! Right on the waterfront of the Maroochy River with campfire rings on the grass out the front, this will be a dream escape for the lucky winner!
Make sure to enter here: www.driveyourownadventure.com
---
(Disclosures: We were kindly gifted our accommodation at Ingenia Holidays' locations at One Mile Beach, South West Rocks and Byron Bay, and a small food allowance for our trip, along with use of the Hyundai Tucson mentioned above. We only ever recommend brands and places that we personally love!)