Mount Etna is arguably one of Rockhampton's best kept secrets.
Located near the Capricorn Caves and just a 30-minute drive north of the Rockhampton CBD, it is one of the best sunrise locations around.
A short, steep hike through remnant dry rainforest leads you to the summit, where you are rewarded with epic views of stunning limestone formations and the surrounding landscape.
Mount Etna also boasts an impressive set of stairs and boardwalks at the top, which are the perfect spot to enjoy the view while taking an Instagramable selfie or two.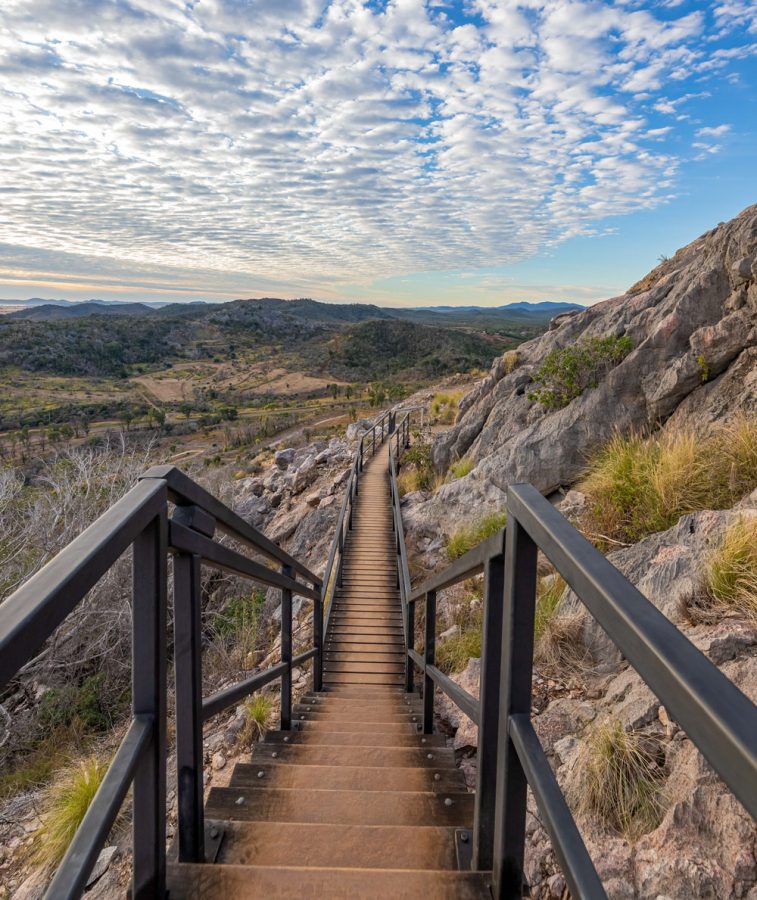 All about Mount Etna
Named after the volcano in Sicily, Rockhampton's Mount Etna was mined for guano (aka bat poop) from 1914 to 1939, and for limestone from 1925. In fact, you can still see the quarry from the summit.
However, in 1975 the Mount Etna Caves National Park was established to protect the mountain's caves.
This is because the Mount Etna Caves National Park is the roosting site for more than 80% of Australia's breeding population of tiny bent-wing bats. It is also one of the few places in Australia that supports a colony of endangered Ghost Bats.
At dusk from December to February, thousands of little bent-wing bats rush out from their roost in Bat Cleft to feed on insects. Only mature females and their offspring inhabit Bat Cleft cave, and they can consume the equivalent of 50 per cent of their body weight in insects each night.
As part of this natural event, snakes are also known to hide around the entrance to the Bat Cleft cave in the hope of catching their own feed of bats.
If you want to experience this natural spectacular, you should book onto a Queensland Parks and Wildlife Service ranger-led tour which run from December to February.
What you need to know
First up, make sure you are at the right location. You want to be at the access point for the Mount Etna Bat Cleft Caves that is found off Rossmoya Road. This should not be mistaken for the Camoo picnic area off Camoo Caves Road which is closer to the Capricorn Caves.
Continue straight, past The Caves Country Pub. Do not turn off towards Capricorn Caves. Instead, continue straight and follow the road as it curves to the right on Rossmoya Road. You will then see a sign for the Mount Etna Bat Cleft on your left, and need to drive up a short gravel road to the base of the hike.
From there it is a 2.4km walk along an out and back trail that should take about 1 hour, depending on how long you spend at the summit.
It's not a very difficult walk, with a well-defined path, but this is a mountain after all, so it inclines rapidly to begin with.
The walk then plateaus somewhat as you walk around the top, before descending steeply down another set of stairs to the Bat Cleft cave. But keep in mind that this is an out and back trail, so you will have to walk back up those stairs!
Please note that there are no amenities available, and the walk is not suitable for strollers or wheelchairs. We found that there were a few mosquitos about, so remember to take some repellent.
(DISCLOSURES: We explored the Rockhampton Region in July 2020 in paid partnership with Explore Rockhampton. The opinions included in this article are all our own. We only ever recommend places, services and experiences that we personally love.)
*All information correct to the best of our knowledge at the time of publication.