Fishing the Mighty Fitzroy River (Tunuba) in Rockhampton is probably top of most eager anglers' 'wish list'.
Home of the Barramundi, the river also plays host to plenty of trophy King Threadfin that many dream about catching.
But in Rockhampton, reeling in a trophy Barra or King Threadfin is the reality for many visitors and local alike. And there are plenty of smiling selfies posted on social media to prove it!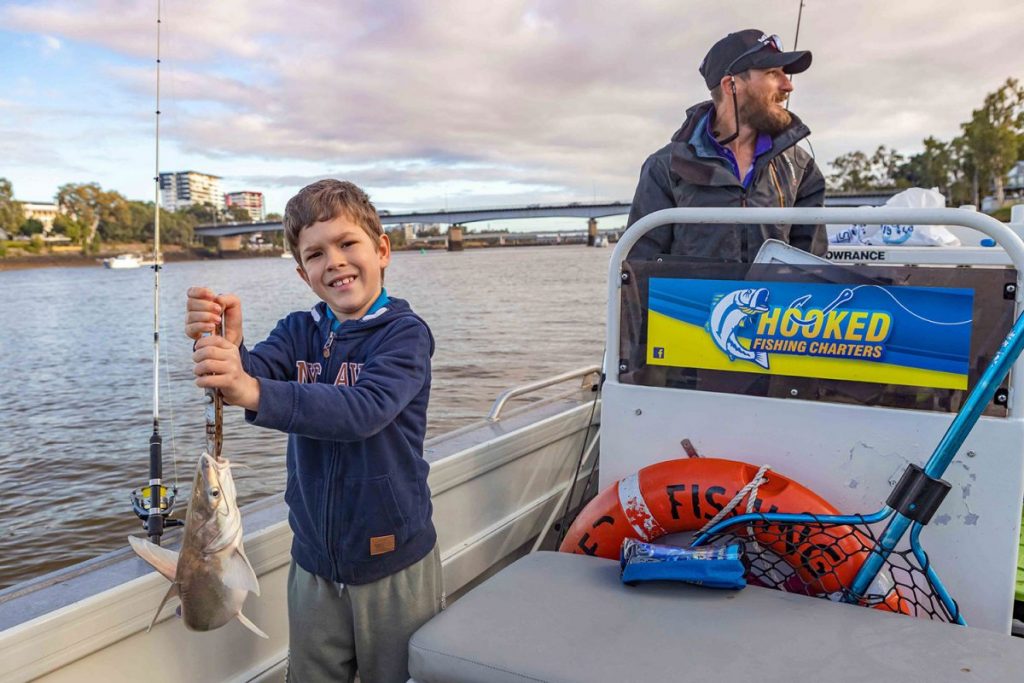 Fishing the Fitzroy (Tunuba)
We are the first to admit that we're not the most experienced fishers. But the possibility of reeling in a trophy Barra, combined with the lure of exploring Rockhampton from the water, had us jumping out of bed one morning to give it a red hot go.
We headed out on the river with Hooked Fishing Charters, who provided a comfortable, modern boat, fresh bait, plenty of rods and reels, and even a delicious snack to keep our energy levels up. All we had to bring was our sun protection and enthusiasm!
Our guide Travis showed us how to use the onboard fish finder (depth sounder) to track down the fish, before giving the kids the rundown on how to prepare their bait and fishing reels.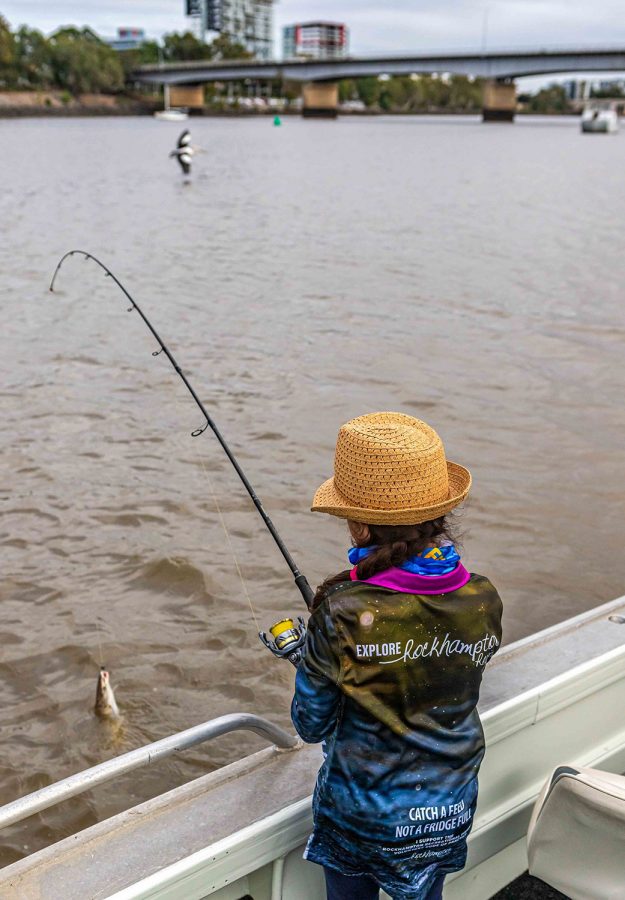 With a flick of the wrist, Travis showed them the best way to cast, and we were soon eagerly watching several lines out around the boat in the hope of hooking a Barra.
With Hooked Fishing Charters' local knowledge, we soon had our first nibble. Our son raced over and excitedly began reeling in the catch.
Turns out it was a catfish. But it was still the biggest fish our 7-year-old son has ever caught, and he was over the moon. "Best day ever," as he says!
As soon as our son hooked his first fish, the competition was on! Our daughter was on a mission to catch her own and it didn't take long until she too had reeled in a large catfish. The kids loved it!
A selfie with a trophy Barramundi or King Threadin may have eluded us on this trip. But as you can probably tell by the smiles, the kids were incredibly happy with their catches anyway.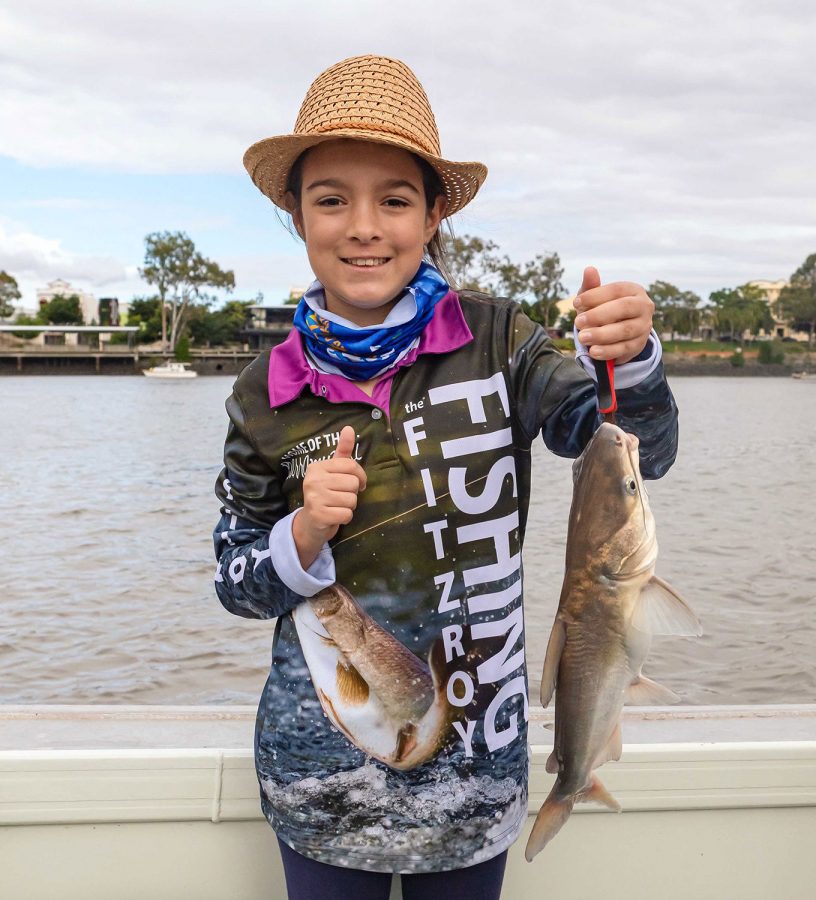 We will be back to try again in the warmer months when the Barra are a little more active. And with Hooked Fishing Charters guidance, we're quietly confident we'll catch a trophy Barra next time.
We should note that our whole experience was catch and release.
And before you ask, yes, Rocky is crocodile country. There are a few crocs that are known to live along the Fitzroy River (Tunuba) near Rockhampton, each with their own territories.
Travis pointed out where one of the local crocodiles is usually spotted, but he wasn't out sunbathing when we went past. Although, you could probably argue that was a good thing!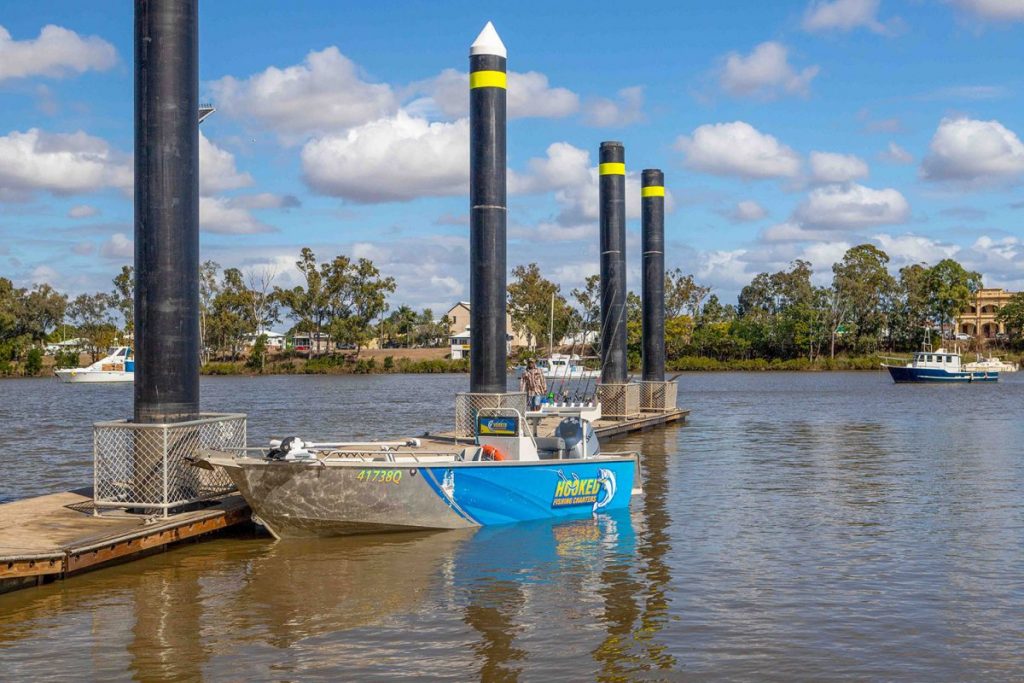 What you need to know
The largest river on the eastern seaboard of Australia, if you're hoping to target trophy Barra on the Fitzroy River (Tunuba) its best to visit during Barramundi Season.
Starting at midday on 1 February each year, Barramundi Season stretches through until midday on 1 November, when you are allowed to target Barramundi and take home your catch.
For the rest of November and all of December and January, when the season is closed, you're not allowed to target Barra in order to allow the fish to spawn. If you do happen to catch a Barra during season close, you must release it back into the water.
A 'trophy' size is considered to be over one metre. However, the legal size range for Barramundi in Rockhampton is 580mm to 1200mm.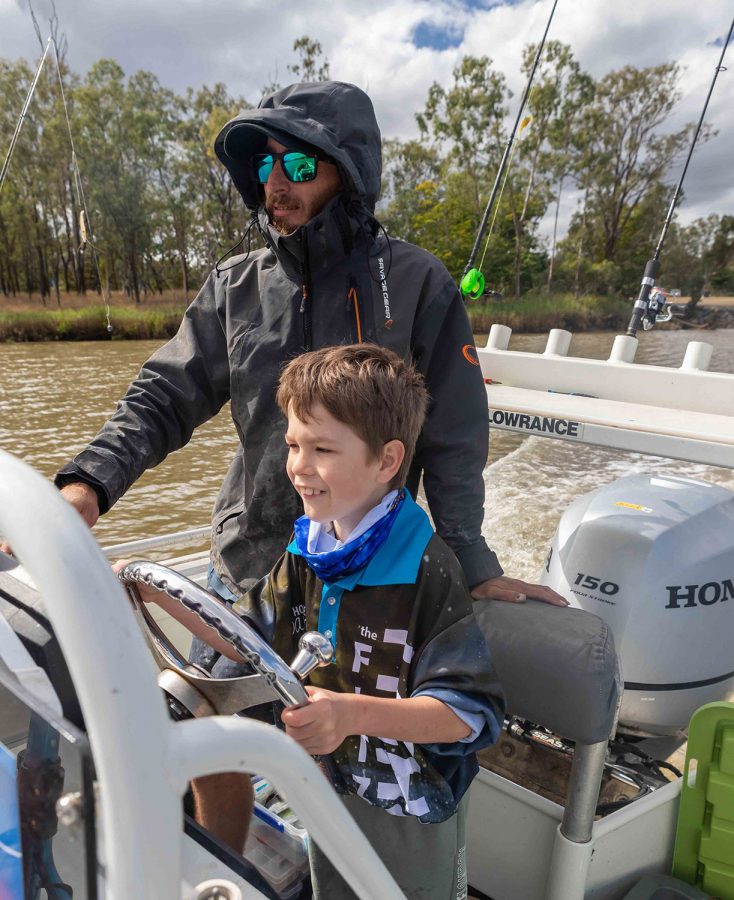 There is a daily possession limit of five fish per angler, but fishers are encouraged to abide by the local voluntary code of practice (VCP) which suggests the retention of just two fish per day between 580mm and 1000mm.
King Threadfin, or 'Threadies', have a minimum legal size of 650mm, no maximum size limit, and a bag limit of five per angler per day. However, the VCP recommends that fishers limit their take to two Threadfin between 650mm and 1000mm (65 and 100cm).
Hooked Fishing Charters
For more information, read Explore Rockhampton's Guide to Fishing the Fitzroy.
(DISCLOSURES: This article was written in paid partnership with Explore Rockhampton. We were kindly hosted by Hooked Fishing Charters during our visit in July 2020. The opinions included in this article are all our own. We only ever recommend places, services and experiences that we personally love.)
*All information correct to the best of our knowledge at the time of publication.