If you're looking for an experience that's sure to give you goosebumps (in a good way!) book a tour of the Capricorn Caves.
Just a 30-minute drive from the Rockhampton CBD, they are arguably one of the most impressive cave systems on Australia's east coast and offer a range of tours to suit all abilities and levels of adventure.
First discovered in 1881 by Norwegian migrant John Olsen, the dry limestone caves remain one of the largest privately owned cave systems in Australia and are well-worth exploring.
In fact, they are one of the longest running tourist attractions in Queensland and it's easy to understand why.
We've visited the Capricorn Caves twice and loved both experiences. The first time we joined the popular Cathedral Cave Tour and the second time opted for the slightly more adventurous Explorer Tour.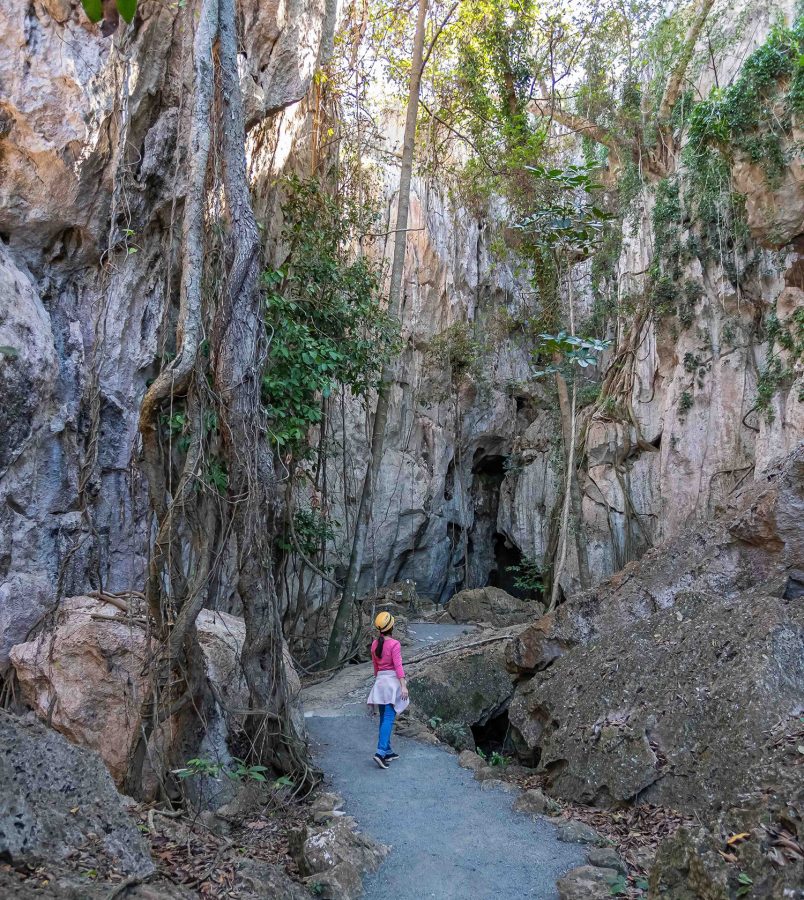 Cathedral Cave and Summer Solstice
During our first visit in January 2020, we were incredibly lucky as it coincided with the Summer Solstice Light Spectacle.
For about six weeks of the year from December to early January, the sun aligns over the Tropic of Capricorn. In a natural phenomenon at about 11am each day a beam of light penetrates the darkness of the Belfry Chamber through a 14-metre vertical shaft.
Standing under the beam of light, the colours of your clothing are reflected onto the walls of the cave around you in an impressive display.
Our tour guide placed disco balls, as well as a red umbrella under the beam of light to create a stunning lightshow.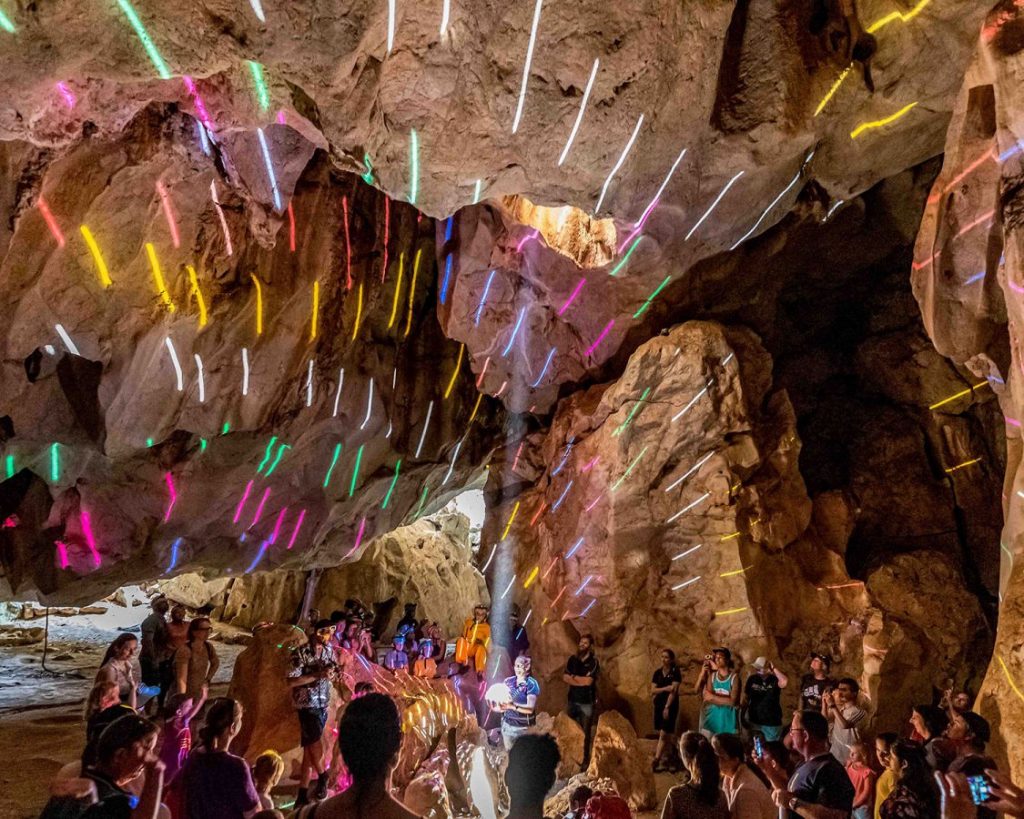 However, we would still recommend the Cathedral Cave Tour any time of year to experience the spectacular natural acoustics in the Cathedral Chamber which are sure to give you goosebumps!
Often used for concerts and weddings, visitors are given a first-hand experience of the Cathedral's near perfect acoustics.
Our tour guide forewarned us before turning out the lights and playing the song Hallelujah. It was one of those pinch yourself moments that we're transported back to whenever we hear that song played.
The Cathedral Tour lasts for about 45 minutes and showcases the largest and most spectacular caves. It also consists of a slightly more adventurous section at the end, where you zig zag your way through a series of narrow passageway to the final swing bridge.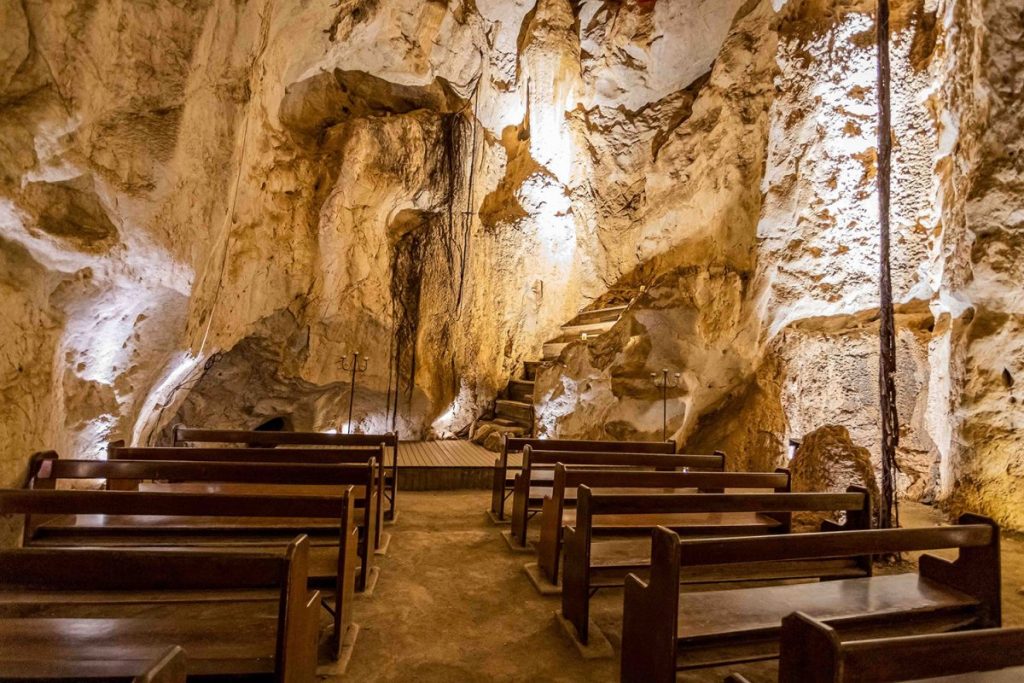 Challenge yourself on the Explorer Tour
One of two new, slightly more adventurous tours launched by Capricorn Caves in 2020, the 90-minute Explorer Tour sees you don helmets and headlamps to explore several stunning locations not previously visited on any tours.
It also challenges you at times with the option to try squeezing your way through different narrow passages in the cave system.
None are a requirement, so you are able to take a step back and observe if your nerves get the better of you. However, it is lots of fun and afterwards our kids beamed with pride at having overcome their fears to give each of the challenges a go.
As our 7-year-old son said: "Climbing through the adventure caves was squishy but so much fun!"
Being in a small group (a maximum of 10), we were also lucky enough to spot a rock wallaby, an owl and a micro bat!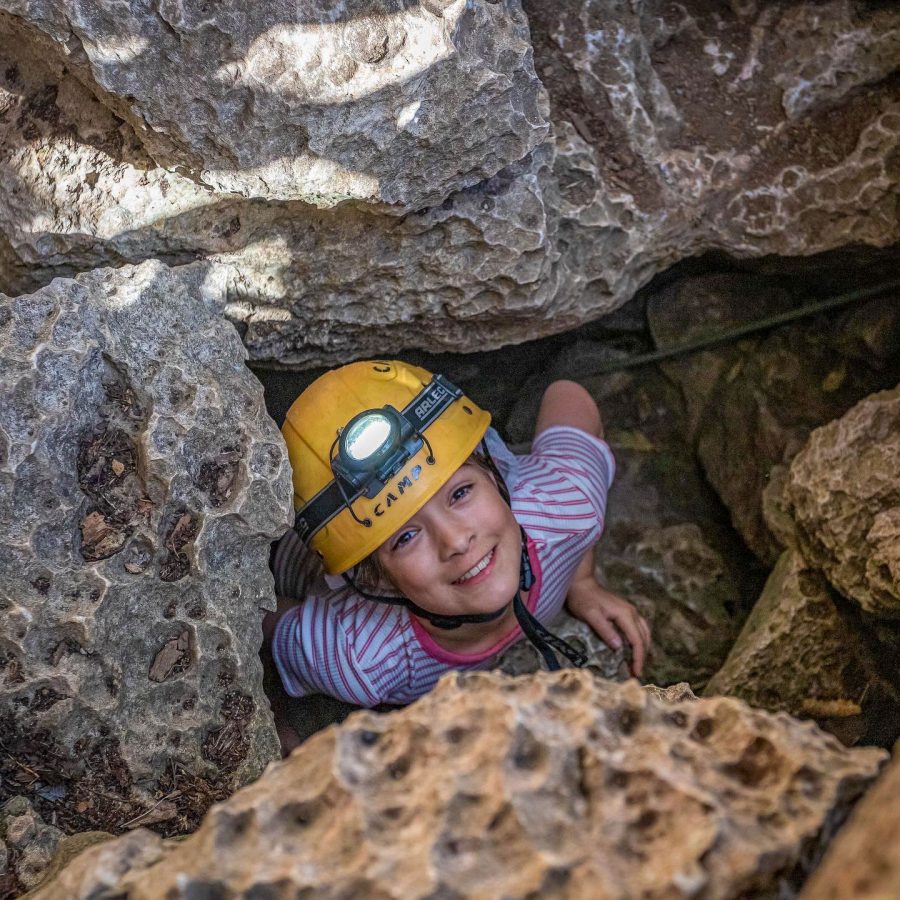 Stay at Capricorn Caves
Why not make a full day of it and stay at the Capricorn Caves?
There is a caravan park and camping available onsite, while we stayed in one of the spacious two-bedroom cabins during our trip in July 2020.
Not only does it make it so much easier to arrive in time for the first tours of the day, it's also a fantastic bushland escape.
We would definitely recommend the cabins, as they are really well appointed, with the added bonus of being set in a tranquil bush location so you may spot some of the local wildlife.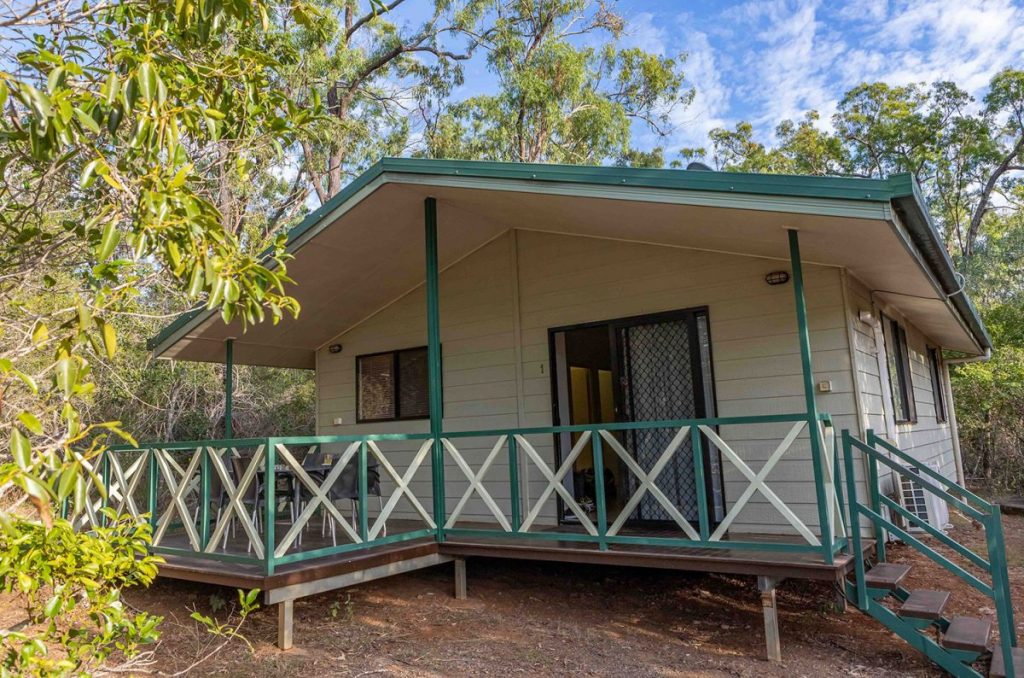 There are also communal campfires dotted around the caravan park, where we happily spent the evening toasting marshmallows.
Another bonus of staying at the caves is that Mount Etna is just a few minutes away and the short hike to the top serves up stunning views over the surrounding landscape.
If you're an early riser, Mount Etna is also the perfect place to catch a stunning sunrise!
What you need to know
Website: www.capricorncaves.com.au
Phone: +61 7 4934 2883
Where: Capricorn Caves, 30 Olsen Caves Road, The Caves, Queensland 4702.
Amenities: There is a small gift shop and kiosk with undercover seating area, toilets and free WiFi.
Accommodation: A spacious caravan park and self-contained one and two-bedroom cabins are available onsite, with a laundry, barbecues, a common area (with television) and a pool.
For more inspiration for places to discover around Rockhampton, visit the Explore Rockhampton website.
(DISCLOSURES: This article was written in paid partnership with Explore Rockhampton. We were kindly hosted by Capricorn Caves during our visit in July 2020, but paid our own way during our visit in January 2020. The opinions included in this article are all our own. We only ever recommend places, services and experiences that we personally love.)
*All information correct at the time of publication to the best of our knowledge. Please check the Capricorn Caves website for the most up-to-date details.