Want to know how to find Maleny's iconic One Tree Hill?
You're not alone! Every time we visit, we seem to run into people who have spent an arduous amount of time searching for this much-photographed spot.
The site has unofficially been dubbed as the most photographed paddock on the Sunshine Coast, particularly when it comes to Maleny weddings!
It's beautiful view over the Glass House Mountains and solitary tree (believed to be a sour cherry and somewhere between 60 and 100 years old) seems to be a magnet for the adventurous or romantic at heart. After all, it's the ideal setting for a romantic picnic, like the one created by Deep Love Picnics in our photo above.
We must admit that the first time we visited, we also spent a rather ridiculous amount of time Googling and searching local pages to find out exactly how to get there. But once you discover the answer, it's ridiculously easy to find.
The caveat of us sharing these details is that you MUST respect the owners of this beautiful property. One Tree Hill is private property and the site is actually a paddock on a working farm, which celebrated its 100th year in 2017, with the first Woods family members arriving in 1917.
PLEASE ASK PERMISSION TO ENTER
As the paddock is private property, you MUST ASK FOR PERMISSION TO ENTER AHEAD OF TIME.
Please respect the owners' wishes, as they have had a lot of trouble in the past with people leaving the paddock gate open, allowing their precious cattle to roam across the road, causing a danger to both the animals and passing vehicles. In other cases, people have littered and driven vehicles across the grass, damaging this beautiful location for all.
We think it is wonderful that the owners are so willing to share their beautiful property with others so they can capture the view, the iconic tree and create everlasting memories.
The Woods family only ask that you respect their property, make a booking ahead of time and make a small donation of $50, with every cent gifted to local community groups as an important way of supporting the local community.
That is the sign of big hearts that want to help as many people as they can, while still looking after this special site.
So, please, please, please be respectful of the Woods family's wishes, so that this beautiful location can remain available for those special moments so many of us want to capture. If you do have the opportunity to visit, please leave only your footprints.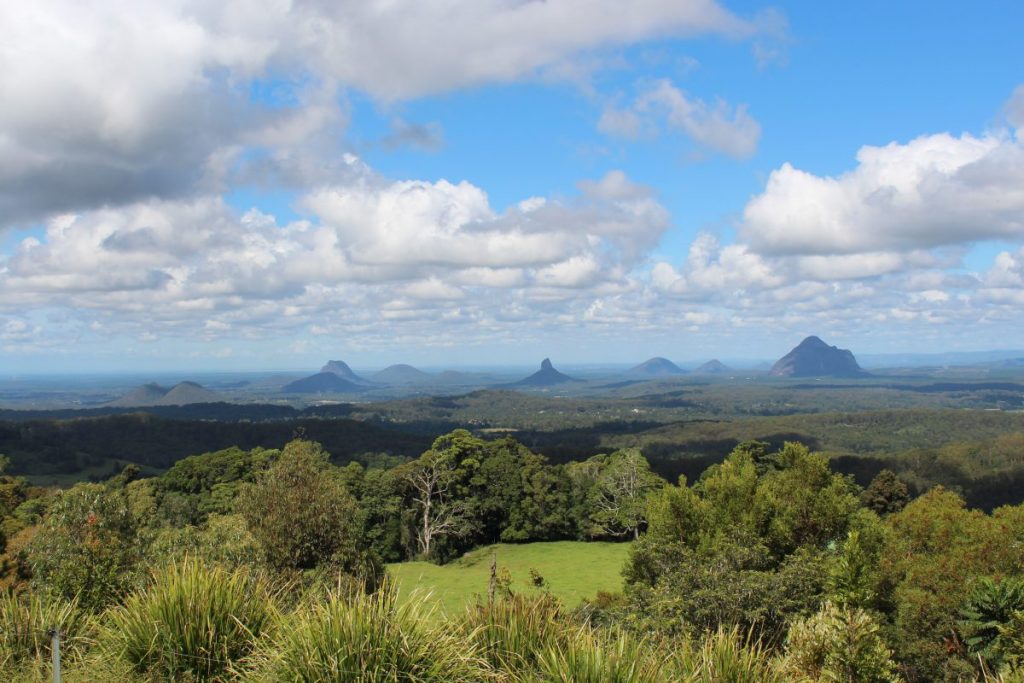 OTHER NEARBY VIEWPOINTS
If it's too late to make a booking, or that just seems a bit too hard, you can take a lovely picture of One Tree Hill from outside the fence. We did just that on our first visit and the image with Gemma above is an idea of the great images you can capture that way.
You can also get an amazing view and photo of the Glass House Mountains from the nearby and newly renovated Mary Cairncross Scenic Reserve (SEE PICTURE ABOVE), which has the added bonus of a great cafe onsite and beautiful rainforest walk.
Maleny Botanic Gardens and Bird World, which is at the end of Mountain View Road, Maleny, also has fantastic views over the Glass House Mountains, with the added bonus of the beautiful gardens and bird sanctuary if you are willing to pay the entry fee.
MAKE FEATHERED FRIENDS AT MALENY BIRD WORLD
HOW TO FIND MALENY'S ONE TREE HILL
LOCATION: Between 308 & 349 Mountain View Road, Maleny. If visiting Mary Cairncross Scenic Reserve drive further down Mountain View Road southwards in the direction of Maleny Botanic Gardens and Bird World; you will see One Tree Hill on your left.
THE RULES: Book your entry ahead of time – phone Mrs Woods 07 5494 2115 (One Tree Hill). Donate $50 (PRIOR to accessing the property) – this donation helps local organisations such as The Men's Shed, the Maleny Historical Society, Busy Needles, Maleny Senior Citizens, the Naval Cadets and the Maleny Show Society.
*Information correct at the time of publication.