Mt Ngungun is arguably one of the most Instagramable spots on the Sunshine Coast.
PLEASE NOTE: THE MT NGUNGUN SUMMIT TRACK REOPENED IN SEPTEMBER 2019 AFTER FIVE MONTHS OF MAJOR UPGRADE WORKS. (Read the official Queensland Parks and Wildlife Service statement about the works by clicking here.)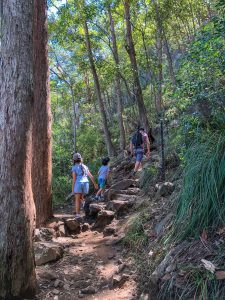 One of the spectacular Glass House Mountains, the relatively flat top of Mt Ngungun serves up spectacular 360 degree views of the craggy peaks of neighbouring Mt Tibrogargan, Mt Tibberoowuccum, Mt Coonowrin and Mt Beerwah, making it the ideal view and selfie spot.
But don't let the fact that it's a 'mountain' deter you from hiking to the top with your kids. It's a surprisingly easy hike and one that most kids should be able to tackle – possibly with a few 'breather' stops along the way.
Both our kids (aged 9 and 6) made it to the top quite easily in about 30 minutes and without too much fuss, and there were many other families making the hike with even younger children while we were on the mountain.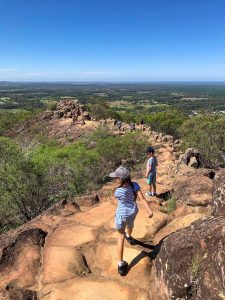 The only thing to keep in mind is that there are some steep cliff edges at the top, when you need to scramble over the rocky outcrop to take in all the different view points.
Just make sure children are supervised and made aware of the dangers. Our son is a VERY "energetic" child, and even he was fine at the top.
Also, there are no toilets or water at the summit, so make sure to take water bottles with you.
Applying insect repellant and sunscreen is also a good idea, as there can be some mosquitos around and it's quite exposed to the sun at the top.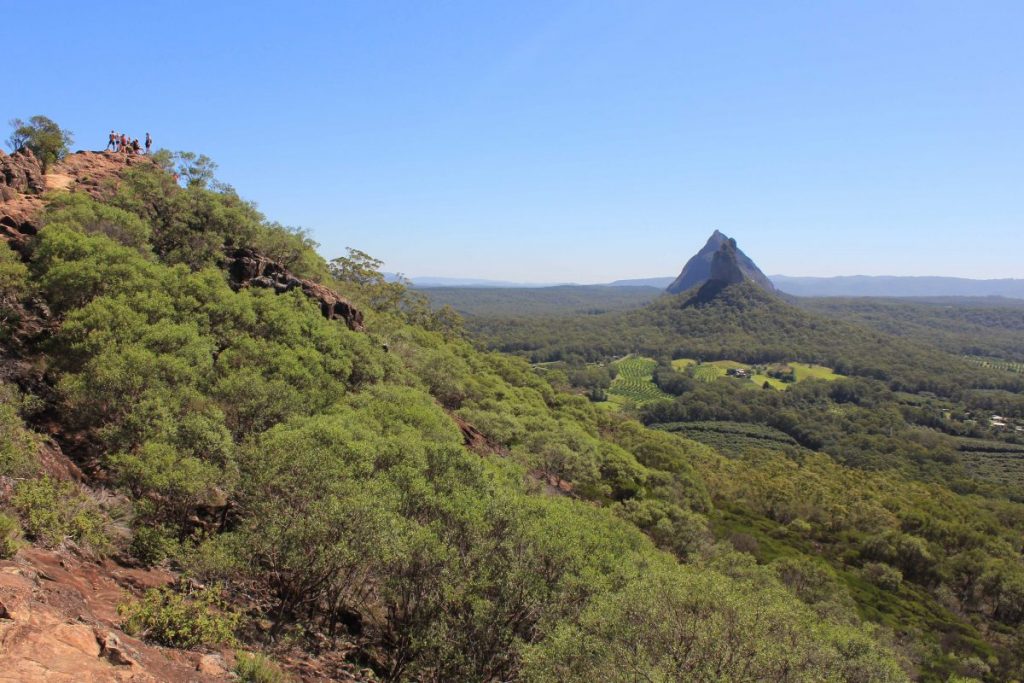 About Mt Ngungun
Overall, Mt Ngungun (pronounced "noo noo" but generally known as "gun gun") is 253m high and accessed via a well defined, grade four track.
There are only a few steeper sections with short bursts of stone 'stairs' every now and then towards the top.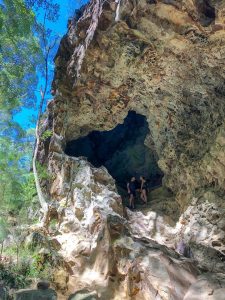 The track starts from the signposted carpark off Fullertons Road, on the outskirts of the Glass House Mountains township.
The walk begins in open forest with a fern understory and gradually becomes steeper as you zig zag up the side of the mountain.
Part way up is the perfect spot of a 'breather' when a gap through the trees enables a great view of Mt Tibrogargan, just as the track passes a small rocky overhang that includes a small cave-like opening.
The 2.8 km return hike is relatively easy and it takes about 30 minutes to reach the summit at a leisurely pace.
The summit provides spectacular close-up views of nearby Mt Tibrogargan, Mt Tibberoowuccum, Mt Coonowrin and Mt Beerwah.
Happy hiking!
Want more inspiration?
• EVERYTHING YOU NEED TO KNOW ABOUT HIKING MOUNT NINDERRY
• BEST WATERFALLS ON THE SUNSHINE COAST
• BEST LOOKOUTS ON THE SUNSHINE COAST

• HOW TO FIND THE NOOSA FAIRY POOLS