Have you ever had one of those moments where you've scoured the shops for hours to find the ideal gift for the kids, only for them to dismiss your "perfect" present almost immediately?
Most parents have probably experienced a similarly frustrating facepalm moment.
If you're looking for a gift that's going to hold your little cherub's attention and challenge and educated them, while also providing hours of fun, we think we've found the answer – Build a Bots!
These cool little toys are made by Colorific and bring STEM learning to your children by merging basic science, technology, engineering and mathematics concepts as your kids build the interactive toys themselves.
So, the fun is not only in playing with them but also building and personalizing them. They're a definite winner with our kids.
How Build a Bots work
Build a Bots come in a wide variety of animals (zebra, unicorn, lion, tiger, butterfly, dragon etc), with options that make noise, light up, move around more quickly, suction onto the wall, or a combination of these.
When you open your Build a Bot packaging, you'll find a range of pieces and easy instructions on how to put the toy together. There is also a page of stickers so your child can personalize what the toy looks like at the end.
The instructions are designed for children, so they're broken down into easy to follow steps with diagrams.
Our nine-year-old daughter breezed through them, and only asked for a bit of help understanding which way the Build a Bot Bugs multiple legs interlocked with each other. Our six-year-old son needed a little more assistance following the instructions, but both kids were engaged and remained happily focused on the task.
It wasn't a lengthy or difficult process to build each toy, and our children really enjoyed the experience and were proud of themselves for having built their own toys.
Even putting the Build a Bot Caterpillar's legs on the wrong way around became a confidence boosting and educational experience, with the need to go back and review the instructions to figure out what had gone wrong.
And the kids have since discovered on their own that the click and connect function of the Caterpillar, Butterfly and Grasshopper means they can be rebuilt and joined together to create one big interlocking bug, which they love.
Build a Bot range
There are four basic types of Build a Bots in the range – Sound, Light, Suction and Bugs. Each has a slightly different range of features and all were popular without kids in their own ways.
The Build a Bot Bugs were popular because they are quicker and can be interlinked to create different variations of the toys. The kids like holding races / battles between their Bugs to see which one crosses the finish line first.
The Unicorn and Tiger were probably the favourites because they "so cute". They're in the Build a Bot Sound range, along with a Puppy option. When you turn them on and clap, they hop towards you which the kids found fun. They also make sounds, but not in that annoying way that some children's toys can. The Tiger makes a soft roar while the Zebra sounds a little like a horse with a tickling jingle when it turns on.
The Zebra and Lion are in the new Build a Bot Light range and are a mix of toy and night light. If you lift their tail they then move, and if you pat them the light inside changes colour. You can also use them as a soft night light, as they turn themselves off after 20 minutes.
The Dinosaur / Dragon is most likely to be a winner with the boys, as it transforms from a Dragon to a Dinosaur through the use of different parts that suction on to the body. It's pretty fun and your child can make whatever variation of the creatures they like, it's just up to their imagination.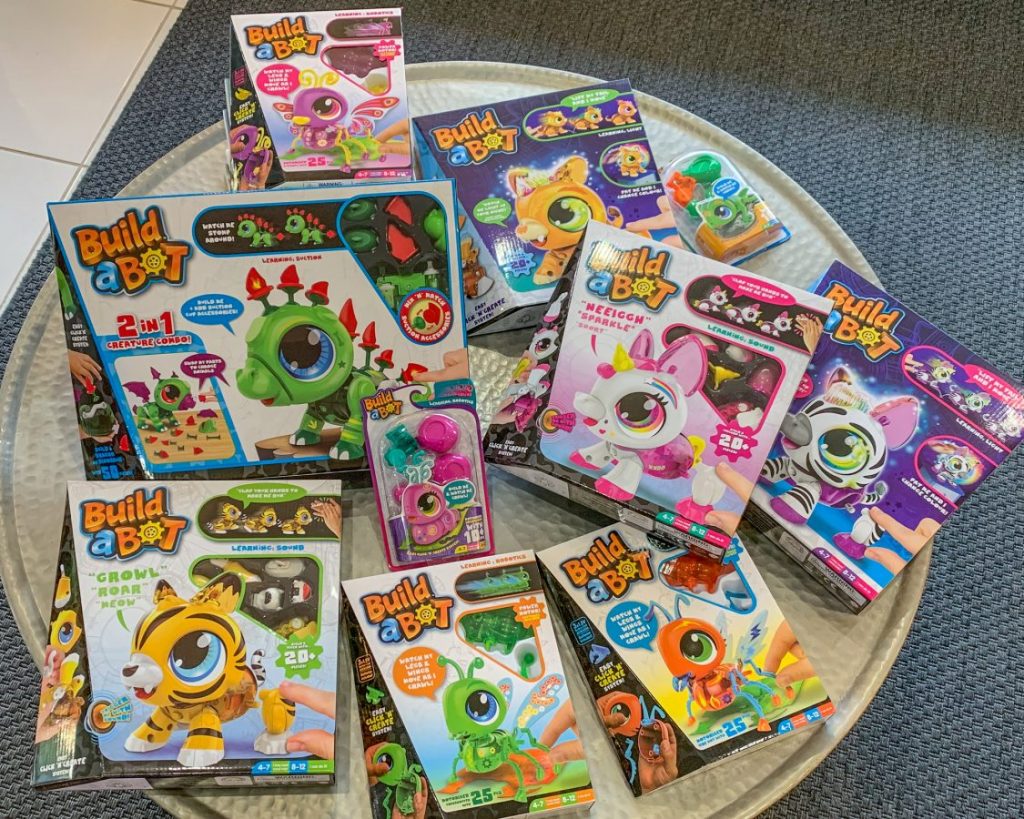 Build A Bot verdict – big thumbs up!
We've had our Build a Bots for a few weeks now and have given them a really good test run. The kids really enjoyed building them and still play with them, swapping bits around and setting up "battles" to see which one is quickest to the finish line.
We think a good test of the success of a toy is how quickly it gets discarded or not, and we're happy to report that the Build a Bots are still out in the lounge room being played with regularly.
They've been a really fun addition to our household, challenging the kids and getting them thinking when they were building them, as well as providing lots of active and imaginative play.
We've even taken them out of a "walk" a few times – but that may of been the kids hinting that they'd like a pet and our Siamese fighting fish is no longer cutting it. Lol.
As our daughter said: "I loved making our Build a Bots. It was pretty easy. I only got mixed up with the legs but I figured out how to fix them. They're lots of fun."
WHERE TO BUY: Big W, Kidstuff Online, Mr Toys Toyworld, Officeworks, Caseys Toys, Toymate, and other selected retailers.

MORE DETAILS: www.buildabotworld.com.au
(Disclosures: We were kindly gifted the Build a Bot toys shown above. The opinions included in this articles are all our own. We only ever recommend brands and products that we personally love!)